AUGUST 12, 2020 BY KEVIN KILBRIDE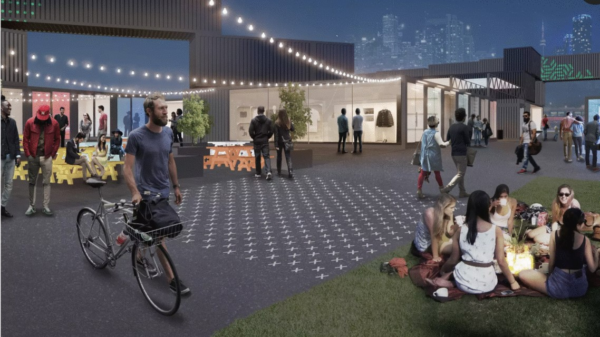 Overview
The Stackt Container Market is the city's first-ever shopping and dining destination made entirely out of shipping containers. The two-level market occupies a massive area on King Street West (Toronto) and will be home to tons of pop-up shops, restaurants and artist spaces.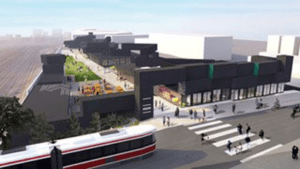 About 15 percent of Stackt will be dedicated to retail, while 85 percent will go to culture and programming. (COURTESY OF POMP & CIRCUMSTANCE).
Urban Renewal Background
The now-vacant 100,000-square-foot lot at Bathurst and Front Streets in Toronto that was used by a slaughterhouse until 2014, and previously housed a smelting plant, has been an unpopular (and smelly) mainstay of its southwest downtown neighborhood for decades.
Two former residents of the area are aiming to change that. Matt Rubinoff and Tyler Keenan are working to transform it into a modular, shipping-container marketplace for community gathering, programming, retail and social enterprise called Stackt by the summer of 2018. (Alex Mckeen – Toronto Star Dec 19 2017)
Shipping containers can be outfitted for retail, office or meeting purposes, and combined to make larger spaces. For aesthetic and architectural purposes, they can also be stacked like blocks to create interesting and appealing structures.
The Heating Challenge
How do you heat a container? ThermaRay was approached to help engineer the heating solution. These are containers after all with little to no insulation, and no floor space for heaters of any kind. The only option is an electric ceiling radiant heating system.

ThermaRay's AS 2×4 heaters have the highest level and best grade of insulation in the industry which results in a much more efficient heater. Placing them on the ceiling, it maximizes floor and wall space. Radiant heating technology is highly effective in this case by providing heat ThermaRay AS Heater with a surface mount frame where it is needed. After working with the engineers, a proper mounting method was agreed upon and the number of units was determined. Not only was the heating problem solved but it solves a space challenge as well. Don't expect to get this type of engineering support from an online retailer. You'd be on your own.
Last Steps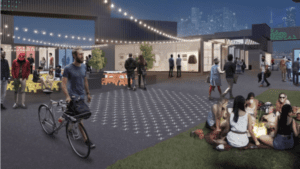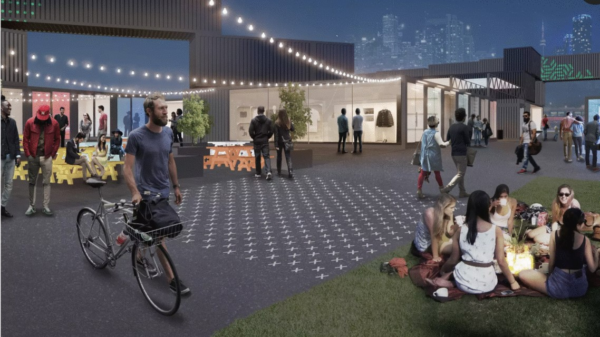 Once the building itself is fully complete, the surrounding area will be landscaped for a "terraced piazza and a lawn." According to Urban Toronto, Stackt will be open to the public for two and a half years before the city redevelops the space into a public park.
http://stacktmarket.com/